The Ray White Allens Education Foundation was an approved charitable trust offering scholarships annually to Northland youth who demonstrated a passion for excellence and are looking to achieve their career goals through further education and training. The Foundation was established by the team in 2006 to encourage and assist young Northlanders who are aspiring to be the best they can be,and officially closed in 2019. Through the program we have supported 92 young Northlanders, and given away more than $124,000 in scholarships.
2018 Scholarship Recipients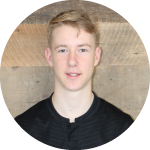 Ben Griffin
Ben is a prefect and whanau captain at Whangarei Boys High School. He is a strong academic, a musician and a sportsman, he chairs the magazine committee, and mentors 'at risk' students.
Heavily involved in giving back to the community Ben helps out with monthly coastal clean ups and has, amongst other things, volunteered as a leader with the Rock Solid Youth Group. Whilst completing his degree he plans to continue to find opportunities to serve the community. "He has had an amazing input into our local community" writes the team leader/trustee of Rock Solid Youth Group, "whatever endeavour he puts his effort to in the future he will succeed with flying colours."
Ben is aiming for the sky, literally, taking his strong passion for flying to Palmerston North next year where he will be studying for a Bachelor of Aviation at Massey University. His long term goal is to become an Air New Zealand pilot.
So next time you're flying Air New Zealand, keep an ear out for your pilot's name … in the not too distant future it just might be "Ben".
"Ben is a young man of the highest integrity, showing a high level of maturity. He is honest, reliable and courteous and is highly respected by his peers and staff." Assistant Principal, Whangarei Boys High School.

Nicole Johnston
Nicole has spent the last seven years at Kerikeri High School. Her childhood dream has always been to become a veterinarian and she has been working diligently to realise this goal.
Since the age of 13 Nicole has been volunteering whenever possible with a local vet, assisting in a range of procedures and gaining a comprehensive knowledge of veterinary terms, procedures and drugs. She has also been involved with the care and rehabilitation of SPCA rescue horses.
Nicole's school science fair investigation into the effects of diet on levels of glucose in mare's milk drew the attention of an international horse feed company, who were so impressed by the potential of her research that they wish to develop her ideas.
It comes as no surprise that she has been accepted into Massey University to begin her studies towards a Bachelor of Veterinary Science.
"Nicole's display of focus and determination when working with me makes me believe she is very capable of becoming a great veterinarian." Veterinarian, Bay of Islands Vets

Ceili Lea
Ceili is a head prefect at Bream Bay College. Involved in a wide variety of activities both in and out of school she has been recognised with numerous awards over the years for her academic, sporting and cultural abilities, including (to name a few) debating, speech writing, surfing, netball, dance and performing arts. She has also been a consistent recipient of the Bream Bay College citizenship award for service, leadership and integrity, is a member of the WDC Youth Advisory Group and a volunteer surf lifesaver.
Since year 6 Ceili has been directly involved with the local Waipu Cycleway and Walkway Group, from fundraising, to presenting a powerful verbal submission to the WDC, to officially opening stage one alongside Mayor Cheryl Mai.
Recognising the power to accelerate change in the community Ceili is taking her passion for writing and people to Auckland University of Technology where she will be working toward a Bachelor of Communication Studies. Her goal is to become a successful journalist, to be able to learn and educate people about the world's social, political and environmental issues.
"Her name is one that is going to make history … Ceili is destined to make great change in this world". Whanau Teacher, Bream Bay College

Chelsea Karl
2018 is Chelsea's final year at Okaihau College. During her final year she took on the roles of environmental student leader, student council member, and house captain. Heavily involved in both school and community she participates fully, with a positive passion, in all available activities both academic and physical, and has been recognised with a variety of awards in literacy, design, teen ag, sports, etc.
Chelsea loves her community and returns regularly to her local primary school where she is an annual judge for calf club day and a Duffy book presenter and role model, working with and encouraging the children.
Chelsea's creativity and innovation in her design and presentation skills have led to her helping design the pool changing rooms at Umawera School and being involved with the design of a new outdoor deck, kitchen and bathroom for the Okaihau Town Hall.
In 2019 Chelsea begins her studies for a Bachelor of Architectural Studies majoring in Architecture with a goal to starting her own NZ based company designing culturally reflective housing that is both affordable and environmentally friendly.
"Chelsea was always a good role model for the younger students and they all strived to be a "Chelsea" when they grew up". Principal, Umawera School

Teaghan Kirby
Teaghan is a prefect and house captain at Whangarei Girls High School. She has been involved with the student council, multiple committees, tutoring younger students, collegiate hockey, representative netball, show jumping, is a frequent youth voice at Northland Regional Council meetings, and still manages to gain outstanding academic results. Her teachers describe her as "the perfect student who works as hard as she possibly can to get the results she is striving for with a work ethic second to none".
This year she was selected to join the Sir Peter Blake Trust Expedition to the remote Kermadecs with the NZ Navy to study a pristine marine reserve alongside some of New Zealand's best scientists. Passionate about environmental issues, this expedition took it to another level for Teaghan and she has used her considerable initiative to follow her dreams.
Next year she will begin her studies in Natural Resource Engineering at Canterbury University along with a Diploma in Global Humanitarian Engineering, allowing her to follow her passion for the environment, addressing issues and finding innovative ways through engineering to solve them.
"I have had the privilege of working with many talented young New Zealanders … and Teaghan Kirby is truly a standout amongst them … I have never met a more proud Northlander." Programme Director, Sir Peter Blake Trust
Danyon Laing-Reid
Danyon is a year 13 student at Kaitaia College. He is recognised as a young man of integrity, supportive of those about him, always willing to get involved in College and Whanau group activities and to assist wherever he can. A keen and diligent worker who achieves what he sets his mind to and a regular visitor to his marae where he is held in high regard, helping out with maintenance and upkeep whilst there.
Danyon has experienced poverty at a broad scale, witnessing first-hand the effects decisions around money can have and how limiting it is to many people's lives. He yearns for further knowledge regarding the intricacies of money, stating: "We have made money so dominant in this age, and proper care is vital in our wellbeing. The problem is, many lack this knowledge."
Next year Danyon will be commencing his Bachelor of Business at AUT majoring in accounting. His dream is to share his knowledge and inspire others to be fiscally responsible. He plans to come back to work in the Far North District Council and become a chartered accountant, then continue on to central government where he hopes to make real change within communities' attitudes and knowledge around finance.
"His success will be of great support to our whanau further assisting Iwi and the wider community." Kaumatua, Karangahape Marae
Joseph Luna
A year 13 student at Pompallier Catholic College, Joseph is described a student of exceptional ability with a real thirst for knowledge. Upbeat, co-operative, polite and always completely reliable, he has played a very active role in the school and wider community, displaying a tremendous ability to organise the groups that he is involved in.
This year alone he was a school prefect, revived and ran Young Vinnies, member of both WDC Youth Advisory Group and Future Leaders Whangarei, parish pastoral council youth rep, junior basketball coach, senior basketball player, and more.
Joseph's family immigrated to NZ when he was 7, his parents making significant sacrifices to provide Joseph and his siblings with more opportunities and improve their future prospects. Recognising this he strives to always do his best and take every positive opportunity in front of him.
In 2019 Joseph heads off to study Medicine at the University of Otago with the goal of becoming a doctor. Following his passion to improve people's lives, he is determined to give back to his family and rural communities in Northland, who he credits for allowing him to become the person he is today.
"An intelligent, sensitive, positive young man, we wish him well, confident that in all he does, Joseph will conduct himself with the same self-assurance, willingness to help and integrity that we have come to expect of him." Principal, Pompallier Catholic College
Ashleigh Monsen
Ashleigh was a 2018 prefect at Whangarei Girls High School where she was leader of both the SADD and Global Issues committees, SADD National Leader, member of the Citizenship, Environmental and House committees, played collegiate hockey, carried out her prefect duties and still managed to achieve outstanding academic results.
In 2019 Ashleigh will be attending Massey University's Albany campus studying towards a Bachelor of Speech and Language Therapy with Honours.
Her journey toward her goal began at the age of three, when her younger sister was born with brain damage and cerebral palsy, requiring ongoing assistance for simple tasks such as swallowing through to communication in general. Ashleigh has experienced first hand the difference a speech and language therapist can make, not only to the life of the individual but also to their families.
"A student of the highest calibre … reliable and personable with a mature attitude … unfailingly courteous, kind and compassionate … a desire to help others and contribute to society … an outstanding young woman." Whanau Teacher & TIC Biology, Whangarei Girls High School.
Huia Webby
Huia is a year 13 student at Whangarei Girls High School where she is involved in many committees and clubs has been recognised with numerous academic awards.
An accomplished musician and a member of the school chamber music group since year 9, Huia volunteers at Sistema Whangarei, tutoring violin. Earlier this year she led the improv session for a large group of advanced string players from around the country. She also tutors a younger student in classical piano.
Huia loves the ocean and has been a member of the Whangarei Young Mariner unit for the past seven years and, since 2015, she has been a volunteer deckhand on the day sails the R Tucker Thompson run through the summer.
At the age of 9 Huia was inspired by a primary school trip to a marine reserve. She decided then and there that she wanted to be like the marine biologists who were running the programme. Over the following years she discovered a love of biology, mathematics and being around, working and playing in the ocean.
The 9 year old's dream takes fruition next year when she heads to Wellington's Victoria University to begin her studies towards a Bachelor of Science majoring in Marine Biology with a possible Double Major in Mathematics.
2017 Scholarship Recipients
Sook Min Teoh (Sabrina)
Sabrina is a year 13 student at Whangarei Girls High School where has made an immense contribution to the wider school life in so many ways. Generous with her time and willing to share her skills and knowledge with others, she is a peer mentor, leader of the tech angels group (helping students and teachers with their technological issues), has been on a wide range of committees and volunteered with Hospice and Soul Food. She also finds time for air pistol shooting, fencing and is an accomplished pianist. Sabrina intends to study for a Bachelor of Engineering (honours). She states: "Engineering is a traditionally male dominated profession and, as a woman, I want to change that. In the future, I want my workplace to have a mixture of different genders and engineering will be a course for everyone. I want to contribute in making the world a better place for future generations to live in."
"Sabrina is a highly motivated, outstanding student with a clear vision of her future, along with the intelligence, qualities and determination needed to achieve her goals … she is unfailingly reliable." (Principal)
Megan King
Megan is a prefect at Whangarei Girls High School where she is head convenor of the design committee and has excelled in the creative design and fashion areas. Since she was a child her passion has been fashion and sewing. 2017 is her seventh year entering the Bernina Northland Fashion Awards, where she has entered a total of thirteen complete outfits – receiving three first places, seven second places and one third place with multiple garments in multiple sections. Megan works two part time jobs to fund her passion, one of which is assisting a wedding dress maker. It is no surprise that she has been accepted in Whitecliffe College of Arts & Design where she will complete Bachelor of fine arts majoring in fashion design.
"She was a model student right from the outset, who quickly impressed with her immense creative talent. Extremely focused and driven, Megan is determined to succeed and is an absolute pleasure to have in class." (Principal)
Joseph Kaptein
Joseph is a prefect at Whangarei Boys High School. He has received numerous awards and accolades for his music. At school he leads the jazz band and the chamber music group, tutors younger students in chamber music, and has supported numerous school performances, concerts and open days. Joseph is a member of the Northland Jazz Band Thelonius Punk and was a member of the blues/rock band TwoKay in 2014 and 2015. He is a committee member of the Northern Jazz society, a performer at Northhaven Hospice fundraisers, Bay of Islands Jazz and Blues Festivals, community arts festivals, cultural events and Jazz Society Club Days. He is also a passionate composer. Unsurprisingly, he has been accepted into Auckland University where he will study a bachelor of music majoring in jazz performance.
"Joseph is a talented young man and strong academic. He is an extremely busy performer and balances his commitments and study deadlines expertly … creative, self-assured, an effective leader, humble, innovative, highly motivated, and very generous with his talents and time."
Bella Anderson
Bella is a year 13 student at Whangarei Girls High School and intends to study music at Victoria University, majoring in classical performance on the flute. She is heavily involved in the musical community in Whangarei, including Whangarei Youth Music and her school concert band, and has a deep passion for chamber music. Bella volunteers at Sistema Whangarei, a music education charity, where she was instrumental in forming a woodwind tuition programme. She has won a number of awards over the years including the Northland Performing Arts Competition and NZ Chamber Music Contest.
"Bella has a fantastic work ethic, communicates well and with authority, has a wonder 'can-do' attitude and is always willing to step in and help out … she is truly the embodiment of a great human being going that extra mile." (Programme Director, Sistema Whangarei)
Portia Olney-Kemp
Portia is a prefect and sports council captain at Whangarei Girls High School. A keen sportswoman, she was her school's senior girls athletics champ in 2016, Northland secondary schools senior girls triathlon champion in in both 2016 and 2017, and second in the Northland senior girls surfing scholastics. Portia is currently a surfing instructor, has spent the past few years as an athletics helper/advisor on behalf of Whangarei Primary Schools athletics, and been a hockey coach for Northland Hockey. Since her very first appointment with a physiotherapist due to a sports injury, she knew this was what she wanted to do when she got older. On path to achieving her dream, Portia is heading to Auckland next year to study health science with a final goal of becoming a sports therapist.
"Portia has an excellent work ethic. [She] is a talented sportswoman who has balanced training and sport with her studies and school commitments for as long as I have known her. I have always found her to be honest, thoughtful, considerate, kind and humble.' (WGHS Assistant HOD English)
Laila Abada
Laila is a year 13 student Kerikeri High School where she is a prefect, librarian, debating coach, class representative and member of the executive student council. She has been involved in competitive debating and speech competitions since year 7, receiving multiple awards, loves music, especially singing, and has a passion for academia and success. Laila is interested in Political law on an international scale, women's empowerment and humanitarian rights. Her career goal is to work for people's rights. "I could not imagine doing anything else with my life, and a Human Rights lawyer working in impoverished countries is definitely where I am supposed to be." To achieve this she is aiming to complete a bachelor of law with a bachelor of french and international relations. "One day I will work for the United Nations."
"Laila is a highly organised, determined and conscientious student who is enthusiastic about her work, intelligent and extremely hardworking."
Jasmin Winikerei
Jasmin is head girl at Kerikeri High School where she has consistently received academic excellence since year 7. In year 11 she was awarded top scholar. A keen sportswoman she is captain of the senior girls volleyball, basketball, and netball teams, and is also involved in athletics, rugby and various other sporting activities. Realising how much of an impact a teacher can have on your life, her career goal is to become a secondary school teacher, teaching both physical education and te reo Maori, to inspire others as her teachers have inspired her. Next year will see her begin her studies in Te Reo Maori and health, sport and human performance at the University of Waikato.
"In all measures Jasmin is a wonderful representative of Tai Tokerau Northland, Head Girl of a big successful school, academic excellence, a sporting icon and a young Maori woman who walks confidently and proudly in both cultures, leading by example and encouraging others to aspire." (Principal, Kerikeri High School)
Zane Williams
Zane is head boy at Kamo High School where he has maintained a consistently high standard of results across the academic spectrum. He is a member of the Kamo High Boys' 1st XI hockey team, and has been involved in a variety of different sports over the years. He is an active member of the community and a regular volunteer/organiser for fundraising events. Zane comes from a farming background. In 2016 he was awarded the Whangarei A&P Society's Australian Exchange in recognition of his involvement in school, teen ag and the Whangarei A&P Show. Next year Zane will begin his studies in AgriCommerce majoring in International Agribusiness at Massey University, leading to a career in NZs primary industry. His goal is to become a leader within this industry to make a positive difference in people's lives and communities.
"Zane Williams has very strong leadership and people skills. He sets himself high goals and strives to achieve them. He is a courteous, reliable and responsible student and leader." (Principal, Kamo High School)
Sophie Morrison
Sophie is a prefect at Kerikeri High School where she received top scholar status for years 9-12 and elite honours in years 12 and 13. She also received a distinction for the AUT economics exams in 2016. Sophie wishes to utilise her academic skills to study toward a bachelor of business management at Waikato University to compliment her real passion, which is hockey. Sophie has been a member of the 1st XI hockey team at her school since year 9, multiple Northland age group rep teams ranging from U13 Collier to Northland Senior Women's, and is involved in coaching clinics for younger players. In 2016 she was selected into the Junior Blacksticks coaching camp, and has made the NZ U18 camp once again this year. Sophie's goal is to play in the Blacksticks women's team at the 2022 Commonwealth Games and then the 2024 Olympic Games.
"Sophie is a thoughtful young woman, a caring coach and leader, a talented sportswoman, and role model to the younger students in the school. Her communication skills and eagerness to try new things are outstanding. She proves that anything is possible when you focus on your goals." (Careers Advisor, Kerikeri High School)
Ushil Patel
Ushil is a prefect at Whangarei Boys High School. He is actively involved in school life being a member of the sports committee, health committee, and the social committee. He also tutors a younger student in several subjects. Academically Ushil has excelled consistently, as is evident with excellent results across the board. Outside of school he volunteers at North Haven Hospice in the inpatient unit, developing his understanding of palliative care. There he had the opportunity to meet and care for patients of pacific island origin and felt as though he could connect and relate to them. Ushil has a passion for helping people and wishes to take this into medicine. Next year he begins his studies toward a bachelor of medicine and bachelor of surgery. "I aim to be able to give back to the pacific community, and I intend to serve then either in Fiji or more locally in Whangarei, where I have grown up."
"In the coming months Ushil will have experiences that will grow him as a compassionate human being who will be able to work in his chosen field with far greater awareness and understanding than those who do not, we need such people coming into the health industry." Manager volunteer & hospitality services, North Haven Hospice.
Jacinta van der Linden
Jacinta is a year 13 student at Kaitaia College. An impressive all rounder she has participated in almost all activities on offer, successfully balancing her leadership roles within the school, and her sporting & volunteering commitments with her study, resulting in receiving college colours annually for sport, service and academics. From the age of 12 Jacinta knew that she wanted to contribute to the health of her community in some way. Over the past two years she has volunteered in various departments at the Kaitaia hospital, solidifying her goal to work in the medical field. Next year she begins her studies toward a bachelor of medicine and bachelor of surgery, before specialising in either general practice or oncology. Having grown up in Kaitaia, her eventual aim is to return to a rural community to practice as she feels these are sometimes overlooked. "Talent is nothing if you do not work for your dreams."
"Her sharp intellect is unselfishly used to help others." (Chemistry Teacher, Kaitaia College)
Phoebe Robertson
Phoebe is a prefect at Whangarei Girls High School. She is leader of the WGHS choir, leader of the music committee, and a member of the cultural and vertical house committees. Intrigued by the performing arts since the age of seven, Phoebe has immersed herself in it both at school and in the wider community. She is a trained singer and an experienced actor, recently performing as a principal member in the cast of Mamma Mia, won overall senior vocal champion at the Northland performing arts singing competitions, and the Northland aria award. She is also a regular volunteer, singing at multiple charity events within the community. Already accepted into Otago Phoebe aims to develop her performance skill set further and complete a bachelor of performing arts degree.
"Phoebe is an extraordinarily talented student … there is no doubt that Phoebe will go a long way in her career. She provides an inspirational role model for others and we are very proud of all she has achieved. Her polite and respectful demeaned underlies her modesty about her incredible talents." (Principal, WGHS)
Follow the Ray White Whangarei & Tutukaka Facebook Page to be updated on all the latest information – including information on previous scholarship recipients, photos, judges commentary and shortlists plus other media releases or visit the Ray White Allens Education Foundation Scholarship Page on this website for more information.
> Ray White Allens Education Foundation Scholarships
> Ray White Whangarei & Tutukaka Facebook Page
2016 Scholarship Recipients
Mathew Espiner
Mathew is a Prefect at Whangarei Boys High School. He is hard working and diligent, constantly striving to improve. Matt is an academically driven student and a passionate supporter of various sports. He has been described as a positive and determined young man with high spirit and enthusiasm. He possesses the necessary problem solving skills and accuracy essential to a career in Engineering through his ability to find alternative ways to achieve difficult tasks. He plans to study for a Bachelor in Engineering (Civil),
"Matt was an exceptionally well behaved student who showed compassion, empathy and willingness to give his best in all that he did" (Senior Teacher)
Krystal Ryan
Krystal is Head Girl at Bream Bay College. Her affinity with the ocean has led to her to enrol in a Diploma in Marine Studies. She balances her time between school responsibilities, leadership positions, coaching football, paid work and volunteer life guard duties. Her dream is to be an agent of change on the behaviours of New Zealanders towards the ocean so that marine ecology is protected and respected yet sustainable. She has done everything within her power to be an inspiring, successful student, an outstanding citizen and responsible community member.
"Krystal is an exemplary student who is destined to perform at high levels in her future studies and life endeavours. She is a great community minded person, hardworking, witty, humorous, positive and conscientious." (Deputy Principal)
Samantha McSweeney
Samantha is an Elite Honours student and Prefect at Kerikeri High School. She has represented the school through music, gymnastics, athletics, netball and swimming while also tutoring a flute student. Amongst her long list of accomplishments, she was joint winner of the 2014 Prime Ministers Excellence in Teaching and Learning Award and awarded the Best Jazz Festival Flautist at the Tauranga Jazz Festival. Samantha has spent many hours perfecting her technique and musicianship passing multiple Royal examinations with honours and winning competitions both regionally and nationally. She wants to study a Bachelor of Music with the goal of becoming a registered Music Teacher.
"Samantha is an outstanding student, she constantly maintains a high level of motivation and diligence, she sets a good example for other students and shows promising leadership" (Principal)
"Her deep love of the flute, and of music itself, is an integral part of who she is" (Music Teacher)
Madison Brooke
Madison is a Prefect at Pompallier Catholic College. She has always been a diligent and focussed student of the highest calibre, balancing school commitments with leadership roles, sports (rowing, swimming, netball), community and part time work. Her passion for health, healthy lifestyles and sport has encouraged her to study Physiotherapy in the hope of working with high performance sports teams in the future.
"Madison is a well-mannered, confident, determined and polite young woman who not only accepts responsibility well, but willingly volunteers for responsibility when she sees the need arise" (Year13 Dean)
"Maddi is self-motivated and loves pushing herself physically and mentally" (Rowing Coach)
Jayden Rudolph
Jayden is Prefect and Head Boy of Bream Bay College. He is an outstanding academic student and a top performer in the dance/drama arena. Jayden has always been very passionate about performing, whether it be dance, vocals or theatre. He is heavily involved in performing arts around the community and performs at regional, national and international levels. His aim is to become a successful performer and to ultimately create a World Leading Performing Arts Centre in NZ.
"Jayden is always interested in looking out for others…. He sets himself high standards and then goes about achieving them" (Principal)
Tia Saunders
Tia is a Prefect at Whangarei Girls High School. She is a top academic student with outstanding attitude. In addition to her various academic and leadership roles, Tia is involved in a large range of sports, including Captain of the WGHS Cricket Team and Northland Secondary Schools Team (being awarded 2015/2016 Girls Bowler and also Player of the Year), and member of the school's squash team (also a qualified Kiwisquash coach). She wants to use creative thinking to solve problems and is interested in projects that help people in their everyday lives. Tia intends to study for a Bachelor of Engineering, specialising in Biomedical.
"She is a polite, modest young woman with a high level of integrity. Tia is a highly motivated, diligent student who will persevere to achieve the high standards she sets for herself" (Principal)
Rebekah Robb
Rebekah is a Prefect at Whangarei Girls High. She strives for excellence and is constantly searching for opportunities to extend her learning and skills. She is enthusiastic, compassionate and hardworking. Rebekah is an outstanding language student receiving a Ministry of Education Language Immersion Award. She is a respected school leader, student Dance Teacher and volunteer youth leader. Rebekah is very excited to be enrolling for a Bachelor of Nursing and hopes to practice nursing in third world countries to provide them with much needed medical attention.
"Her genuine love of people and ability to bring out the best in everyone is inspiring and a big part of her success as a leader. Her bubbly, outgoing nature and ever ready smile exemplify this young woman with her 'glass is half full' attitude to life" (Principal)
2015 Scholarship Recipients
Hikiama Taulangau
Hikiama is Head Girl for Okaihau College and fully deserves the honour. She is an exceptional student well respected by the school and wider community. Hikiama balances her study, work, school, church and community involvements impressively while also giving support to her mother and siblings. Hikiama is a very mature, responsible young woman who is focused on her long term goal in a health career supporting her community. She has applied for Health Science at Otago University.
"Her strength of character shines through her humility and is polished by her Tongan background" (Teacher)
"Hikiama is a natural leader and I believe in time she will be a doctor working in her community" (Careers Advisor)
Megan Brewster
Meghan is Head Girl and Senior School Academic Leader for 2015 at Ruawai College. In addition to her many school responsibilities, Megan is also a volunteer netball coach and umpire, volunteer for community volleyball, a qualified firefighter and works at a local bar/restaurant. She has a real passion for paramedicine and significantly contributes to her local rural community. Megan is to attend AUT and major in Paramedicine.
"I have found Megan to be an extremely gifted and talented student who always maintained a hardworking and diligent approach…and constantly strives to improve" (Senior Dean).
"Megan is a willing and enthusiastic brigade member and shows a level of maturity beyond her years" (Deputy Chief Fire Officer)
Kelly Still
Kelly is a Year 13 Prefect at Whangarei Girls High School. She is a dedicated young lady and a top scholar with strong personal drive. She has an aspiration to make some difference in the world by pursuing a career in Dentistry and ultimately play a part in helping to reduce the lack of access to dental services for Northlanders. Her warm and friendly nature and natural air of calmness would be an advantage when dealing with nervous children.
"She is unfailingly diligent, organized and positive in the way she approaches her academic work….I am excited to see the bright future that awaits Kelly, as she has the attitude and attributes to be a successful leader today and into the future" (Form Teacher)
Greer Moor
Greer is an outstanding student at Kerikeri High School well respected by her peers. She is determined to succeed and balances school, sporting and community commitments as well as a part-time job. Greer was the joint winner of the inaugural 2014 Prime Minister's Excellence in Teaching and Learning Award, and a finalist for the 2015 Sport Northland Junior Volunteer of the Year. Greer has a fascination for rehabilitation and improving performance. She begins her teriary education at AUT studying a Bachelor of Sport and Recreation (majoring in Physiotherapy) with the long term goal of becoming a Sports Psychologist.
"Greer is a polite, focused, highly competent student and a consistent achiever who is friendly and hard working… we hold her in very high regard" (Principal)
Evangeline Liddicoat
Evangeline is a top student and Head Girl at Kaitaia College. She sets high personal and academic standards contributing to all aspects of school life, including Whanau Group Leader, Sports Council, Senior Council and participating in a wide variety of sports. She has been described as "intelligent, diligent and empathetic to those about her". Evangeline has a burning desire to become a doctor where she can help people experience the best quality of life possible. Her long term goal is to become to a qualified Physician specializing in neurology and the repair of brain function.
"Her tenacity and determination means that she works very hard to achieve and does not let obstacles become barriers…this young lady is one of Northland's best" (Assistant Principal)
Kesia Coutts
Kesia is Head Girl and Head Prefect at Kamo High School. She is a conscientious student with considerable sporting prowess. Kesia has received Year 9 and Year 12 Deans Awards, Player of the Year, Most Dedicated Player, Team Spirit Awards and Sportswoman of the Year. In addition to school responsibilities, Kesia supports the community through sports coaching and volunteering. She is also a surf lifeguard and instructor. She has chosen a Bachelor of Physical Education at Auckland University with the long term goal of teaching P.E./Health in line with her passion for sports and fitness.
"She is an admirable young woman who is focused and demonstrates the maturity needed to successfully adapt to any situation" (Assistant Principal)
2014 Scholarship Recipients
Sophie Short
Sophie is a Foundation pupil of Huanui College and their first Head Girl. She has strong personal drive balancing school commitments with a multitude of community activities – such as Student Council, Whangarei District Council Youth Advisory Group, Onerahi Community Association, Whangarei Netball Centre Leadership and has even liaised with the school nutritionist to help benefit the junior Sports Academy. She is passionate about health, sports and nutrition, and wants to improve the health of Northlanders. It is for this reason that she has applied to Otago University to complete a Bachelor degree in Human Nutrition with a further goal of a Masters Degree in Dietetics.
"Sophie is the epitome of 'old head on young shoulders' and… has a natural air of calmness which attracts people to her, knowing that she will be fair and kind to them" (Principal)
Holly Meese
Holly is an outstanding student at Pompallier College having achieved Level 1 & 2 NCEA with excellence endorsements and placed on the Honours Roll for academic attainment. Following her interest in the environment, she will begin her tertiary education at Auckland University to study a Bachelor of Science majoring in Geography and Environmental Science. Holly wants to contribute to the sustainable future of New Zealand and make a difference in the world. In addition to her duties as Prefect, Holly has been involved in various community activities. As part of the school's environment group she participated in establishing a recycling system which involved meetings with Whangarei District Council and Eco Solutions. She has also attended the Northland Youth Summit Programme and worked on projects aimed towards making Whangarei a more youth-friendly place.
"What sets Holly apart is not only her determination and effort to succeed but also her endurance and attention to detail in her work." (Lecturer)
Josh Kiwikiwi
Josh from Whangarei Boys High is a top scholar, artist, talented musician and singer. Last year he was awarded the prestigious Barry Willott Art Award and Year12 Top Creative Arts Trophy. As a young Maori student and evolving artist, Josh is keen to further his education in Fine Arts or Visual Arts and Design, and majoring in painting and sculpting. His dream would be to work in prosthetics, FX character artistry or the film industry. Josh is already known locally for his art work and has also assisted with several Whangarei initiatives – for example volunteering his time to 'Paint the Town' and 'Whangarei Youth Space'.
"My personal interests would be to find who I am as an artist, expanding my compositional and conceptual thinking and creative process to communicate ideas visually, whilst enhancing my growing skill sets to find my own sense of style" (Josh)
Bree Martinac
Bree is a Prefect and Deputy Head Girl at Tauraroa Area School. She is passionate about agriculture and wants to study a Bachelor of Agricommerce, with a dream of one day owning her own farm. Bree has battled dyslexia and is an example of how enthusiasm and hard work bring results. In addition to academic success, she has been involved in the Duke of Edinburgh scheme and is a key member president of the Teen Ag group. She received the Citizenship award for years 11-13. Also Bree is an active and successful sportswomen (awarded Sportswomen of the Year at Manaia Swim Club and has competed at local level in Horse show jumping and hunting). She also volunteers as a surf lifeguard and has offered swimming lessons to the primary students this year.
"Bree always gives her best in everything she undertakes. Indeed Bree is known for her positive 'can-do' approach and is willing to go the extra mile if needed." (Teacher/Dean)
Kane Turketo
Kane is a Prefect at Tikipunga High School and has enrolled at Auckland University in Bachelor of Health Science (Physiotherapy). He is an outstanding sportsman, and is identified as one of 14 top young Northland sportspeople. Therefore, it comes as no surprise that Kane is interested in sports medicine, physiotherapy and rehabilitation. He wishes to see the joy that the patients get when they are succeeding in recovery and overcoming difficult challenges. Kane has volunteered for the Northland District Health Board (Physio unit) and also the local community support group 'Tiki Pride'. He has been a coach and volleyball representative (at regional, national & international level). For his many achievements, he received the Commitment and Focus award in 2013.
"(Kane) is able to discipline himself in the sporting arena and is a good role model to other young men and juniors around him. He plays with fairness and good grace, is respectful of his opposition and is always complementary of a good performance by his opponents." (North Tec/ Coach)
Emily Houston
Emily attends Tikipunga High where she excels at drama and sports. Her passion is to mix learning and working with people, especially the younger generation. She has enrolled in a Bachelor of Education (Primary) at Whangarei Tai Tokerau campus. Emily feels that teachers are often undervalued but they certainly shape our future. She quotes "the mediocre teacher tells, the good teacher explains, the superior teacher demonstrates, the great teacher inspires" (William Arthur Ward). Emily is a driven hard-working student with talents ranging from inside the classroom to community level. She received the School Support Award for Year 9, 10 & 12 and attended an Outward Bound school leadership course. She has shown maturity beyond her years and is able to exercise diplomacy and patience when relating to others. She has volunteered at preschool & primary schools, SPCA (for 4 years), Rising Star Drama Club, and participated in the Leadership in League Programme.
2013 Scholarship Recipients
Harry Linford
Pompallier Catholic College – Bachelor of Architecture
Harry, a Prefect at Pompallier College, is a conscientious and hard working student who achieves at a high level and encourages others to do the same. As the eldest of six children, he is compassionate and supportive of others as evidenced by his various community involvements and coaching roles. – Also an accomplished athlete, Harry has been the Athletics and Cross Country Champion for the school for each year he has attended, and you may recognise him as the young man who is regularly seen running through Kensington, or crossing the finishing line at the various Sport Northland Run/Walk events.
Chris Soufflot
Kamo High School – Bachelor of Architecture
Chris has a passion for graphics and design which shone though in his application – and it was no surprise that he has applied for a Bachelor of Architecture at Victoria University. The judges were impressed with his passion to challenge himself from a very young age – taking part in a multitude of extra curricular activities and responsibilities which has clearly provided him with a broad knowledge and skill base. Chris mentions returning to Whangarei to be a part of the city's development scheme – and talks about the great potential of the area. We would certainly be proud to see him return – and no doubt run his own architecture firm here.
Cassy Osokin
Kerikeri High School – Bachelor of Engineering majoring in Biomedical Engineering. With an incredible ability to balance her studies, work and extracurricular activities while clearly succeeding in all that she commits to Cassy is a School Prefect with Elite Academic Honours and is heavily involved in both the school and community. She demonstrates she is more than able to balance a huge range of demands including the support of her family in times of adversity. Cassy is another delightful young student to graduate from Kerikeri High School, and an individual who will clearly go far, and succeed in all that she sets out to.
Jaime Newton
Bream Bay College – Bachelor of Medicine. A highly motivated and compassionate person, Jaime wants to be able to make a positive change to the lifestyle and well being of rural communities and it's her dream to become a general practitioner. In addition to her many responsibilities as Head Girl at Bream Bay College, Jaime is not just a top academic student, but an outstanding all-rounder. She has proven to be highly positive, driven, disciplined and generous of her time – and has worked as a first aid officer at the Waipu Cove Surf Lifesaving Club. We were impressed with the high standards Jaime sets for herself – and the positive role model she is. And we wish her all the best as she strives to make a difference in the lives of others.
2012 Scholarship Recipients
Daniel Thompson
A keen interest in science and the human body matched with a genuine desire to help people has led Whangarei Boys' High School Student, Daniel Thompson, to pursue a career in the medical profession – working as either an advanced paramedic or the fields of medicine and surgery. With a genuine desire to help and work with people, Daniel is also personally affected by a heart condition – which saw him give up his own sporting interests. This, matched with a genuine passion for science and people helped lead him to this profession.
Zac Doar
Kamo High School student, Zac Doar's goal is to gain a degree where he can "teach others about languages as a window to the world and its varied cultures." – Ultimately keen to work as either an interpreter, translator, foreign language teacher, diplomat or embassy worker, Zac is planning on undertaking a Bachelor of Arts majoring in Language and Linguistics at Victoria University.
Chantelle Orchard
Passionate about animals – Chantelle, who has been home schooled, wishes to study to become a vet-nurse and ultimately use, her skills to teach communities how to look after their animals while continuing to be an inspiration to other pet owners and animal carers.
Sean Thorburn
One of this years' Ray White Allens Education Foundation – NorthTec Scholarship Recipients, Sean Thorburn from Pompallier Catholic College, seeks a productive career in the fields of cinematography and video editing. After media studies ceased at his school, Sean pursued his interest through other avenues – joining Channel North to further develop his skills. Discovering a natural talent for video editing.
Louis Davis
Louis, from Whangarei Boys' High School, wants to learn how to effectively work with people – recognising and cultivating the potential in others and learning how to create productive environments. With a challenging and enquiring mind he enjoys, and has demonstrated his ability to, work alongside people with a common goal to achieve amazing and unexpected results and is keen to further develop these skills by undertaking a Bachelor of Communication Studies at Waikato University.
Kelly Springford
A family family experience led Whangarei Girls'High School Student, Kelly Springford, to choose nursing as a career path – one that she is keen to pursue locally at NorthTec. Excited for her future as a nurse Kelly looks forward to the challenges and experiences from which she can learn and grow in her role as a nurse to care for her patients to the best of her abilities. She is then keen to further her skills overseas so that she can develop a better understanding of the many cultures we have inside our own communities here in New Zealand and bring back a stronger more diverse skill-set.
2011 Scholarship Recipients
Kevin Kruse
Kevin is a pssionate sportsman from Tikipunga High School. His main goal is to become a professional sportsperson (Golf) or P.E. teacher, and will be studying a Bachelor of Sport & Leisure at Waikato University.
Cole Johnston
Cole is a seventh generation Northlander from Kamo High. His passion for science and finding out how things work are the rationale for his choice to study for a Bachelor on Engineering in 2012.
Dane Dreyer
Dane is a budding young scientist from Dargaville High who is fascinated by the human psyche. She has applied to Otago University to complete a double degree majoring in Forensic Analytical Science and Social Anthropology.
Samantha Ellis
Samantha is from Bream Bay College. Being naturally inquisitive, Samantha has always been interested in science and has chosen to complete a Bachelor of Health Science (Otago) or Biomedical Science (Auckland University).
Sylvan Kuczera
Having spent 7 years on his family's sailing yacht, it is no surprise that his passion lies in all activities involving the sea. After completing studies at Kerikeri High School Sylvan will be attending the NZ Maritime School to study Marine Engineering.
Troy Horan
Troy, from Whangarei Boys High School, and has chosen a career in Engineering (Mechanical) which he sees as a practical outlet for combining his love of design and art.
2010 Scholarship Recipients
Bryn van Vliet
Bryn, a multi talented student from Kerikeri High School, has a passion for music and has chosen to study at the New Zealand School of Music in Wellington. Already a talented musician, and five year veteran of the Bay of Islands Jazz and Blues Festival, Bryn plays alto-saxophone (as well as guitar, piano, saxophone, drums, trombone … and "any other instrument [he] can get his hands on").
Reuben Hindriksen
Reuben came from Okaihau College. He chose to attend Auckland UIT to complete a Bachelor of Communication Studies in order to fulfil his dream of working as a TV presenter or journalist. He states "I see the influence the media has on people's perspectives and lives. I want the opportunity to be able to represent truth and integrity in an industry that can sometimes forget these values in the pursuit of a story."
Samuel Frizelle
Sam went to Kamo High School. His passion is for engineering – how things are made, how they work, and the science behind it. He wants to be the one that runs towards a problem when others run away. He planned to study Engineering (Mechatronics) at Auckland University.
Nicola Boyce-Bacon
Nicola came from Whangarei Girls High School. With a strong interest in justice, the legal system and the natural environment, Nicola chose to study a conjoint degree in Law & Science at Victoria University majoring in environmental studies. Her dream is to become a partner in a major law firm working on environmental issues.
Hannah Thompson
Hannah went to Whangarei Girls High School and planned to study a Bachelor of Dance Studies at Auckland University. Hannah loves to dance – "Dance allows me to be myself, and it is when I am dancing that I can really speak to people without having to use words".
Tariki Manawaiti
Tariki, from Tikipunga High School, has chosen to complete a Bachelor of Sport & Leisure at Waikato University followed by teacher training.
2009 Scholarship Recipients
Shelane Lomas
from Whangarei Girls High School. Shelane's career goal is to gain a Bachelor Degree followed by a Masters in Architecture. Her long-term goal is to "set up my own business that pushes the boundaries of modern architecture in NZ while creating warmer, drier and healthier buildings that maintain a reduced impact on the environment".
Barney Olson
a multi talented student from Kerikeri High School with a passion for the theatre and performing arts. His career goal is to obtain a conjoint Bachelor of Arts/Bachelor of Commerce degree at Victoria University and combine this with further study in theatre.
Kawiti Jack Waetford
Kawiti has immense passion for singing and performing, and chose Otago University as a starting point to further develop his classical singing technique. His aim is to be ranked among the top singers in the world.
Corinne Marti
from Kerikeri High School. Corinne chose to study a Bachelor of Law conjoint with a Bachelor of Science at Auckland University with a goal to specialise in the law and ethics of medicine.
Sam Sharp
from Whangarei Girls High School. Sam's career goal is to obtain a double degree studying a Bachelor of Science in Environmental Science and a Bachelor of Physical Education in Outdoor Education.
2008 Scholarship Recipients
Aaron Millar
from Whangarei Boys High School – Aaron has chosen to complete a Degree in Engineering, majoring in Chemical and Process Engineering.
Jared Olsen
from Kaitaia College – Jared's career choice was a Bachelor of Engineering (Chemical or Civil & Environmental) at Auckland University.
Sarah Snowden
from Northland College – Sarah's career goal is to become a PE and Health Teacher.
Rex Hooper
from Tauraroa Area School – Rex is interested in Chemical Engineering.
Dhamendra Unka
from Kamo High School – Dhamendra comes from a unique cultural background as a Maori-Indian New Zealander. He has a genuine social conscience and his sense of justice is acute. He was inspired by a trip to India in 2001 to complete his Law Degree and become a Crown Lawyer.
Sheridan Mellor
from Tikipunga High School – Sheridan chose to study for a Bachelor of Visual Arts followed by a jewellery apprenticeship.
Holly Pratt
from Whangarei Girls High School – Holly has aspired to be a teacher since primary school and will be studying for a Secondary Teaching Degree conjoint with a Bachelor of Arts majoring in English or Geography. She is also considering a Graduate Diploma in Journalism.
2007 Scholarship Recipients

Simone Ackerman
From Kamo High School who wanted to pursue her love of sport through a Bachelor of Science.
Sara Bignell
From Whangarei Girls High School who wished to study a Bachelor of Law/Arts majoring in Geography.
Yvette Meara
From Whangarei Girls High School who chose to pursue a career as a Primary School Teacher.
Gauri Prasad
From Pompellier College who is pursuing a career as a Medical Practitioner.
Rory Taylor
From Bream Bay High School who wished to study a Bachelor of Science degree.
Alyx Pivac
From Kamo High School who wished to study a Bachelor of Science degree.
Emma Daly
From Tauraroa Area School who chose to complete a Bachelor of Science majoring in Neuroscience.
Cameron Leslie
From Pompallier Catholic College who wished to gain a degree in Journalism specialising in Sports Writing.
Josh Hodgson
From Pompallier Catholic College who was looking to complete a BA in Sport & Recreation and work with and coach young children.